Koh Maa-Koh Phangan


Packed with natureís best and tranquil beaches, this is where adventure seekers and peace lovers come together to enjoy their share of paradise.
Koh Ma is one of the tropical gems of Thailand.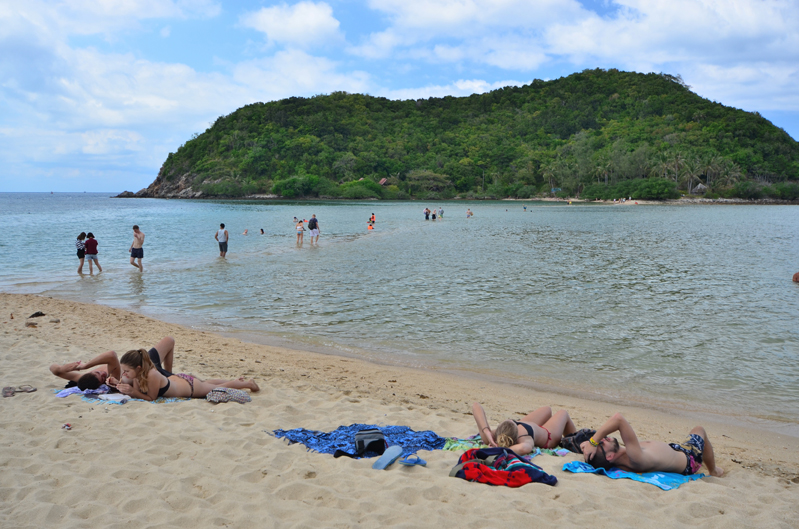 koh ma - koh phangan
Nestled beautifully on the north-western side of the breathtaking Koh Phangan, Koh Ma is a small island that is well-connected by a sandbar on Had Mae Had beach to Koh Phangan, the most popular tourist destination in Thailand.
Koh Ma is easily accessible and one of the favorite vacations spots for people visiting this beautiful country.
People who have visited Koh Ma and explored its various shades have commented that it is one paradise less explored. Although the island has only a few bungalows available for rent, holiday makers staying in the neighboring islands can easily get here to enjoy the best of what Thailand has to offer to backpackers and families on vacation.
Surrounded by colorful and gorgeous living reef, Koh Ma is a perfect site for adventure seekers who wish to try their hand at snorkeling or learn the art of diving. If life under the sea doesnít attract you then consider sunbathing at the tranquil beaches at Koh Ma Island and soak in the pleasure of this tropical paradise.
Easy Accessibility!
Getting to Koh Ma is extremely easy as a sandy causeway is available right from the Mae Haad beach during low tides. Those who are always looking for a dash of adventure may try crossing over at the time of high tide. Itís an experience youíll remember! Although the waves are not too high, you should be careful because it gets slippery. Travelers coming to Koh Phangan never miss the opportunity to visit this quiet island beach.
As the area is sparsely populated, it offers you the perfect surrounding to spend time in tranquility and be at peace with yourself. You can also take a boat from Koh Samui and cross over to reach the Koh Ma beach.

Things to Do:
The island is a perfect representation of what Thailand offers to tourists Ė fun, frolic, adventure and leisure. Koh Ma is flanked by lush and swaying papaya and coconut trees so you are free to help yourself. There are a plethora of water sports and beach activities for the tourists to enjoy. You may also climb to the top of the island and enjoy the scenic views from there. Donít forget to bring a pair of walking boots.
Unlike the Haad Rin beach which is famous for the notorious full moon parties, Koh Ma beach is one natural attraction that offers dollops of tranquility and peace, along with pulse racing adventure. If you are on a honeymoon and wish to spend some tranquil moments with your spouse amidst the natural beauty then this is the perfect place.
Families seeking fun and adventure can also visit the Koh Ma beach for unlimited fun and enjoyment. Juts let your hair down, feel the wind, let your skin soak in the tropical sun and enjoy the refreshing cool drinks while gazing at the endless waters. Whether you are seeking adventure or wanting to spend your holiday in amidst peaceful environs, Koh Ma is the place for you.

Water Sports:
While you are here, you can enjoy water sports such as scuba diving, snorkeling, swimming and so on. This small but picturesque beach island has a world of beautiful marine life with stunning coral reefs under waters. You can go snorkeling or scuba diving to explore the depths and see the hidden wonders down under that have been so painstakingly crafted by nature.
There are some really good diving sites in and around Koh Ma that beckon the beginners as well as the experienced divers to come and have fun. You can also take diving classes in the beach as there are many enthusiastic trainers ready to take you to a guide tours under water and help you explore the natural beauty.
Even if you do not indulge in the adventure sports, the scenic beauty of the place is sure to enthrall you. It offers you a respite from the madding crowd and humdrum of city lives. Laze in the laid back beach which welcomes you to spend a day snoozing in a hammock and taste the ripe fruits from the trees.
Besides enjoying the various water sports and adventure activities, you can also visit the anemone garden, which is a large natural underwater garden that has been nurtured by the shallow and calm waters around the beach. Snorkelers and divers cab visit the garden without much difficulty as the water is calm.